All Products
Digest
Plantadophilus
E-Clubs
BalanceZyme Plus
CalmZyme
DigestZyme
Energy Burst Plus
ExcellZyme
GastroZyme
Carbo-G
Kidz Products
LypoZyme
MasterZyme
PureZyme
PureZyme Plus
ReleaseZyme
RepairZyme
Super CellZyme

Do You Have
Digestive Enzyme
Questions?
See our FAQs
Learn about E-Club Member Discounts!
click here
OxiCellZyme - DISCONTINUED
digestive enzymes, antioxidants, vitamins and minerals
90 capsules per bottle

Love OxiCellZyme?
You'll love the replacement product Digest 90. It's a professional strength digesive enzyme supplement recommended by health care professionals for over 20 years.

Add Super CellZyme to keep getting all the vitamins, minerals and other essentials nutrients.

Product Description
The ultimate goal of digestion is getting nutrients to the cells. Nutrients not only feed the cell, they protect it from free radical damage. Healthy cells lead to optimal metabolism, energy, and immunity. Supplementing with enzyme-based nutrition is a vital part of this nutrient acquisition process.*
Enzyme Blend. OxiCellZyme includes the enzymes needed to encourage more complete digestion.*
Natural Nutrition. A variety of vitamins, minerals, and other essential nutrients are required to feed your body at the cellular level. This pure plant product with all natural phyto-nutrient complexes is not a "mega dose" of any one nutrient but rather a healthy balance of nutrients as found in nature.*
Dietary Support. In addition to broccoli, carrot, and spinach, this formula includes wheat germ which is one of the most nutrient-dense food sources available, making this formula the perfect choice for supplementing healthy nutrition for the whole family.*
Health Benefits: OxiCellZyme is uniquely formulated with pure plant enzymes to support digestion and natural whole foods and herbs for a healthy balance of nutrients as found in nature in bio-available form.*
Recommended Usage for OxiCellZyme:
Take two (2) capsules with each meal. Usage may be increased according to need as directed by health care practitioner. Take with adequate water.

NO FILLERS/NON-ALLERGENIC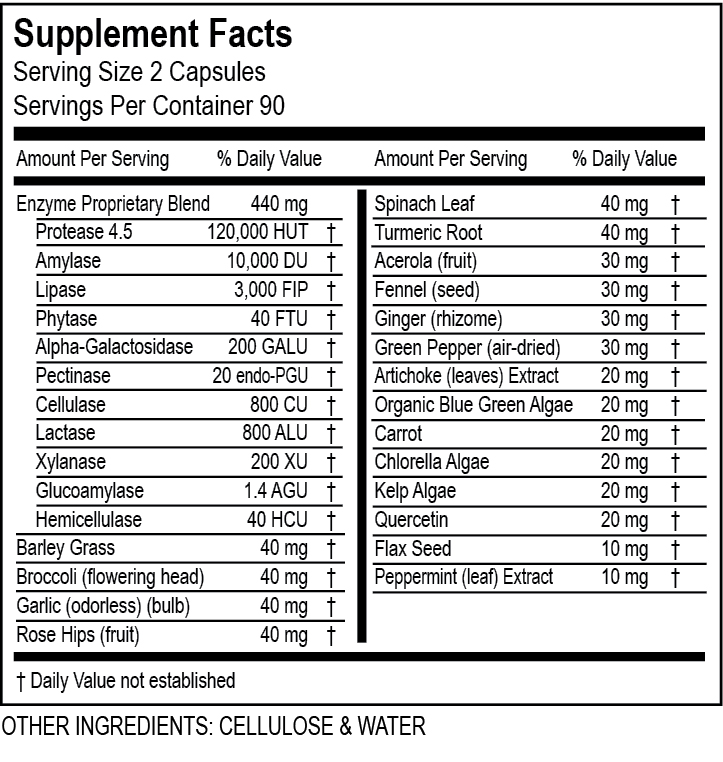 Learn more about digestive enzyme labeling and measurement standards.

Copyright 2015
All Rights Reserved
Enzyme Essentials, LLC
*

S

tatements

have

not been evaluated by the Food and Drug Administration (FDA).

P

roducts not intended to diagnose, treat, cure, or prevent any disease.
The information contained here is for reference only and is not intended to diagnose disease or prescribe treatment. The information contained herein is in no way to be considered a substitute for consultation with a health care professional. Furthermore, this information is for the private use of our clients and is not to be used publicly, reproduced, or distributed without the written consent of Enzyme Essentials, LLC

[About Us] [Contact Us] [Blog] [Member Login]