All Products
Digest
Plantadophilus
E-Clubs
BalanceZyme Plus
CalmZyme
DigestZyme
Energy Burst Plus
ExcellZyme
GastroZyme
Carbo-G
Kidz Products
LypoZyme
MasterZyme
PureZyme
PureZyme Plus
ReleaseZyme
RepairZyme
Super CellZyme

Do You Have
Digestive Enzyme
Questions?
See our FAQs
Learn about E-Club Member Discounts!
click here
Energy Burst Plus
Natural caffeine, B vitamins, herbs and enzymes

Energy Burst Plus 60 capsules
$15.95

Out of Stock

Member Price
$14.95

Natural caffeine from Guarana seed.

Along with the vitamins, antioxidants and enzymes to provide long-lasting stamina

Promotes mental focus

Designed to help ensure that you get the energy you need from the food you eat

Contains vitamins B12 and B6

NO added sugar
NO artificial colors or flavors

Product Description
Find yourself dragging a little in the afternoon? Need a boost that will keep you going without that candy bar sugar crash or the acid stomach from too much coffee?
Natural Caffeine.

Contains 88mg of natural caffeine from Guarana seeds to provide an energy boost.*

Nutritional Support.

With Vitamins B6 and B12 to help with energy production, immune health and protein metabolism.*

Herbal Ingredients. Asian ginseng

, Eleuthero root, and

Ginkgo biloba to support mental focus and boost energy.*

Enzyme Blend. A unique proprietary enzyme blend of lipase, cellulase, amylase, and protease designed to help the body digest and deliver vitamins and herbal ingredients contained in each capsule. Plant enzymes maximize digestion of nutrients, production of energy, and aid in immune support.*

Recommended Usage for Energy Burst Plus: Take 1-2 capsules per day.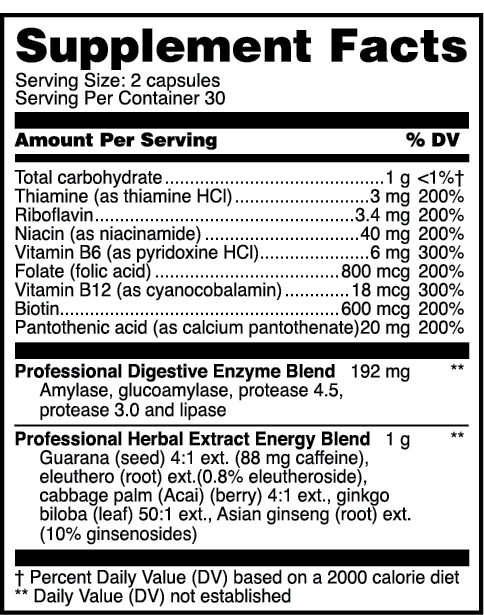 Copyright 2015
All Rights Reserved
Enzyme Essentials, LLC
*

S

tatements

have

not been evaluated by the Food and Drug Administration (FDA).

P

roducts not intended to diagnose, treat, cure, or prevent any disease.
The information contained here is for reference only and is not intended to diagnose disease or prescribe treatment. The information contained herein is in no way to be considered a substitute for consultation with a health care professional. Furthermore, this information is for the private use of our clients and is not to be used publicly, reproduced, or distributed without the written consent of Enzyme Essentials, LLC

[About Us] [Contact Us] [Blog] [Member Login]