All Products
Digest
Plantadophilus
E-Clubs
BalanceZyme Plus
CalmZyme
DigestZyme
Energy Burst Plus
ExcellZyme
GastroZyme
Carbo-G
Kidz Products
LypoZyme
MasterZyme
PureZyme
PureZyme Plus
ReleaseZyme
RepairZyme
Super CellZyme

Do You Have
Digestive Enzyme
Questions?
See our FAQs
Learn about E-Club Member Discounts!
click here
GastroZyme
digestive enzyme supplement with herbs


Persons with occasional bloating or cramping in the GI tract, occasional diarrhea, occasional indigestion, and/or nausea may benefit from this natural support for a healthy gastrointestinal system.* This simple, well-tolerated formula is intended for sensitive individuals and works fast to ease occasional discomfort "below the navel."* This product is uniquely formulated with enzymes and herbs for persons who have occasional gastrointestinal or urinary distress and may be taken anytime to relieve minor GI discomfort.*
Herbal Ingredients. Marshmallow root, papaya leaf, prickly ash bark, and gota kola are the herbs known for their ability to be very soothing to the mucosal lining.
Natural Formula. A vegetarian product in a cellulose capsule, GastroZyme is dairy, gluten, and soy free.
Enzyme Blend. The amylase, lipase, and cellulase enzymes in this formula help promote improved delivery of the herbal ingredients and further support digestion.* This product contains NO protease for improved tolerance in sensitive individuals.
Health Benefits: GastroZyme is a soothing formula of herbs and enzymes that support the health of the mucosal tissue lining the GI tract, respiratory system, and urinary tract system.*
Recommended Usage for GastroZyme:
Take two (2) capsules with every meal. Take with adequate liquid. Usage may be increased according to need as directed by health care practitioner. The amount is dependent on the types and amounts of foods eaten and the individual's difficulty of digestion.

NO FILLERS/NON-ALLERGENIC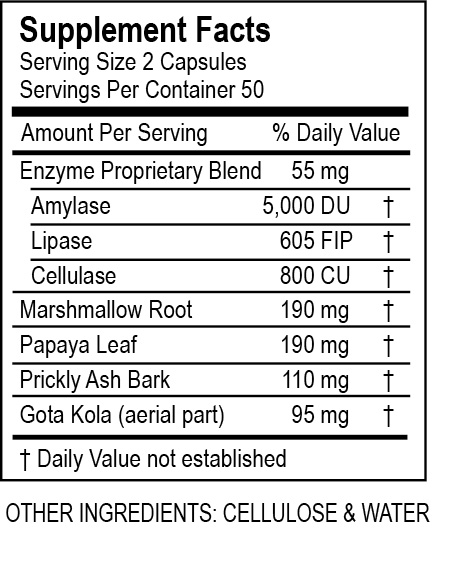 Learn more about digestive enzyme labeling and measurement standards.

Copyright 2015
All Rights Reserved
Enzyme Essentials, LLC
*

S

tatements

have

not been evaluated by the Food and Drug Administration (FDA).

P

roducts not intended to diagnose, treat, cure, or prevent any disease.
The information contained here is for reference only and is not intended to diagnose disease or prescribe treatment. The information contained herein is in no way to be considered a substitute for consultation with a health care professional. Furthermore, this information is for the private use of our clients and is not to be used publicly, reproduced, or distributed without the written consent of Enzyme Essentials, LLC

[About Us] [Contact Us] [Blog] [Member Login]