All Products
Digest
Plantadophilus
E-Clubs
BalanceZyme Plus
CalmZyme
DigestZyme
Energy Burst Plus
ExcellZyme
GastroZyme
Carbo-G
Kidz Products
LypoZyme
MasterZyme
PureZyme
PureZyme Plus
ReleaseZyme
RepairZyme
Super CellZyme

Do You Have
Digestive Enzyme
Questions?
See our FAQs
Learn about E-Club Member Discounts!
click here
BalanceZyme Plus
for weight management and appetite control

Digestive Enzyme and Herbal Formula supports healthy digestion and weight management*
Helps improve fat digestion and appetite control.
Recommended by Healthcare Professionals for 20 years!

Individuals who are interested in an effective weight management program may need additional assistance with fat digestion and appetite control during meals. This support formula is uniquely designed with chromium and synergistic herbal extracts and plant concentrates to assist with digestion and healthy weight management when combined with diet and exercise.* Use this product as part of your diet to maintain cholesterol, glucose, and blood sugar levels already within the normal range.*
Herbs and Nutrients. Chromium and nettles help maintain blood sugars already within the normal range.*
Digestive Support. Garcinia cambogia and plantain are appetite suppressors.* Bladderwrack, prickly ash, and fenugreek support the pancreas, liver, and digestion.*
Enzyme Blend. Enzymes are included in this formula for effective delivery and utilization of the herbal ingredients and nutrients. For best results, take with a digestive enzyme formula such as LypoZyme.

Health Benefits: BalanceZyme Plus is a completely natural source of support for the endocrine and digestive systems designed to help support appetite control, weight management, and the maintenance of already normal cholesterol, glucose, and blood sugar levels when used along with a healthy diet and exercise.*
Formula developed by Dr. DicQie Fuller, author of The Healing Power of Enzymes
Recommended Usage for BalanceZyme Plus:
Take 1 capsule per meal or 1/2 hour prior to meal time for added appetite control. Best if taken with LypoZyme. More capsules may be taken as needed. Take with adequate liquid. Usage may be increased according to need as directed by health care practitioner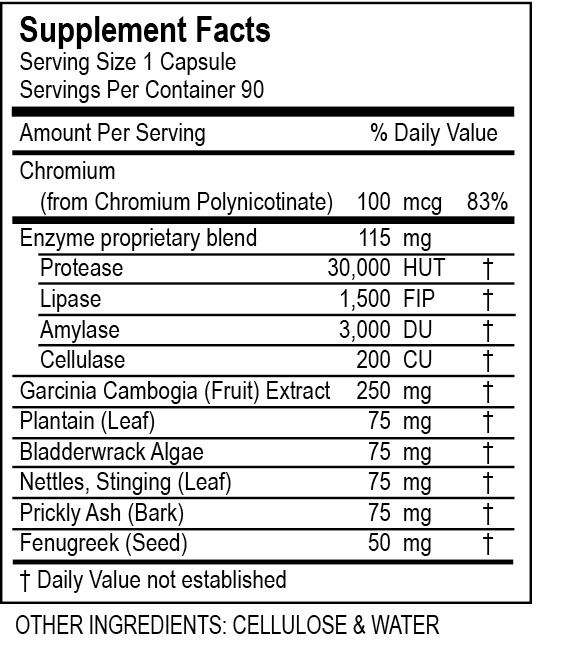 Learn more about digestive enzyme labeling and measurement standards.

Copyright 2015
All Rights Reserved
Enzyme Essentials, LLC
*

S

tatements

have

not been evaluated by the Food and Drug Administration (FDA).

P

roducts not intended to diagnose, treat, cure, or prevent any disease.
The information contained here is for reference only and is not intended to diagnose disease or prescribe treatment. The information contained herein is in no way to be considered a substitute for consultation with a health care professional. Furthermore, this information is for the private use of our clients and is not to be used publicly, reproduced, or distributed without the written consent of Enzyme Essentials, LLC

[About Us] [Contact Us] [Blog] [Member Login]