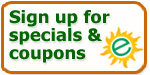 All Products
Digest
Plantadophilus
E-Clubs
BalanceZyme Plus
CalmZyme
DigestZyme
Energy Burst Plus
ExcellZyme
GastroZyme
Carbo-G
Kidz Products
LypoZyme
MasterZyme
PureZyme
PureZyme Plus
ReleaseZyme
RepairZyme
Super CellZyme

Do You Have
Digestive Enzyme
Questions?
See our FAQs
Learn about E-Club Member Discounts!
click here
General Articles about Digestive Enzymes and Digestion
I personally believe good health is not an unobtainable privilege meant to be savored only by the fortunate, but rather, it is a right that should be enjoyed by anyone who is willing to take the time to learn how to take care of his or her health. I have dedicated myself to the idea that everyone is entitled to the healthiest and most vital lifestyle they are capable of obtaining. In 1991 I formulated my own line of enzyme-based dietary supplements, called Transformation Enzyme Fortifiers. I wanted to be sure I could provide the highest quality possible in supplementation for my family, friends and colleagues.
And now, with the help of Enzyme Essentials, you too can benefit from my many years of clinical experience using enzyme supplementation. I am very excited to work with Enzyme Essentials to bring you my line of high-quality enzyme products.
Yours in Health,
Dr. DicQie

Copyright 2015
All Rights Reserved
Enzyme Essentials, LLC
*

S

tatements

have

not been evaluated by the Food and Drug Administration (FDA).

P

roducts not intended to diagnose, treat, cure, or prevent any disease.
The information contained here is for reference only and is not intended to diagnose disease or prescribe treatment. The information contained herein is in no way to be considered a substitute for consultation with a health care professional. Furthermore, this information is for the private use of our clients and is not to be used publicly, reproduced, or distributed without the written consent of Enzyme Essentials, LLC

[About Us] [Contact Us] [Blog] [Member Login]