All Products
Digest
Plantadophilus
E-Clubs
BalanceZyme Plus
CalmZyme
DigestZyme
Energy Burst Plus
ExcellZyme
GastroZyme
Carbo-G
Kidz Products
LypoZyme
MasterZyme
PureZyme
PureZyme Plus
ReleaseZyme
RepairZyme
Super CellZyme

Do You Have
Digestive Enzyme
Questions?
See our FAQs
Learn about E-Club Member Discounts!
click here
PureZyme
protease systemic digestive enzyme supplement


Product Description
Assuring optimal protein digestion and proper blood flow is necessary for effective nutrient delivery, a healthy immune response, and detoxification. Protease enzymes are therefore a must. This formula is uniquely designed with protease to promote systemic balance.*
Protease Enzymes. The proteolytic activity in PureZyme assists the body in maximum digestion of nutrients, production of energy, and aid in immune support.*
Gentle Formula. PureZyme is formulated with calcium for improved tolerance on an empty stomach and includes a smaller but equally effective protease activity per capsule compared to Transformation's Professional Protocol Protease for those who need a more gradual introduction to the benefits of proteolytic enzymes.*
Protein Digestion. May be taken with meals for additional support with digesting proteins.* For those who have difficulty swallowing capsules, PureZyme may be pulled apart and mixed in a small amount of tepid water and/or with the first bite of food.
Health Benefits: PureZyme is well-tolerated, GI and pH stable proteolytic enzymes designed for natural support of the cardiovascular system for supporting muscular health, immune system health, urinary health, and healthy elimination.*

Recommended Usage for PureZyme:
Take two (2) capsules twice a day on an empty stomach. Usage may be increased according to need as directed by health care practitioner.

NO FILLERS/NON-ALLERGENIC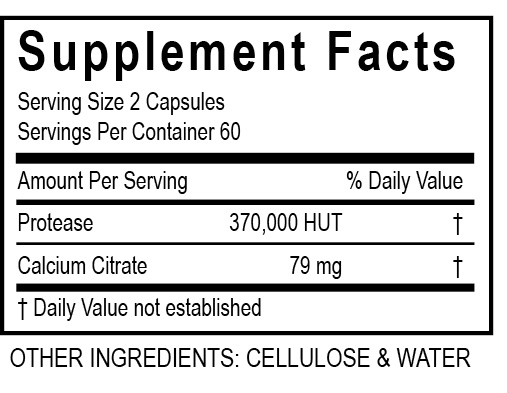 Learn more about digestive enzyme labeling and measurementstandards.

Copyright 2015
All Rights Reserved
Enzyme Essentials, LLC
*

S

tatements

have

not been evaluated by the Food and Drug Administration (FDA).

P

roducts not intended to diagnose, treat, cure, or prevent any disease.
The information contained here is for reference only and is not intended to diagnose disease or prescribe treatment. The information contained herein is in no way to be considered a substitute for consultation with a health care professional. Furthermore, this information is for the private use of our clients and is not to be used publicly, reproduced, or distributed without the written consent of Enzyme Essentials, LLC

[About Us] [Contact Us] [Blog] [Member Login]