All Products
Digest
Plantadophilus
E-Clubs
BalanceZyme Plus
CalmZyme
DigestZyme
Energy Burst Plus
ExcellZyme
GastroZyme
Carbo-G
Kidz Products
LypoZyme
MasterZyme
PureZyme
PureZyme Plus
ReleaseZyme
RepairZyme
Super CellZyme

Do You Have
Digestive Enzyme
Questions?
See our FAQs
Learn about E-Club Member Discounts!
click here
Carbo-G
(formerly GlutenSense)
digestive enzyme supplement

Assists in the digestion of complex
carbohydrates and gluten*
Helps reduce bloating & gas when eating diet with complex carbohydrates.
DPP-IV formula breaks down stubborn carbs

Product Description
Avoidance of wheat products may not be enough to maintain a gluten-free diet. For example, did you know that gluten is used as a food additive and may be present as a stabilizing agent in salad dressings, ice cream, and even ketchup? Our unique Carbo-G formula was created to complement those seeking a gluten-free lifestyle by encouraging more complete digestion and absorption of grains.*
Polysaccharolytic Enzyme Blend. Gluten proteins in wheat products are surrounded by a starchy endosperm cell, which can more effectively be broken down with the alpha- galactosidase, phytase, amylase, glucoamylase, and diastase enzymes included in Carbo-G.*
Proteolytic Enzymes. In addition to our traditional protease blend, this formulation includes DPP-IV which helps break down some of the stubborn peptides found in grain that are often implicated in gluten intolerance.*
Probiotics. These "good" bacteria naturally present in the gut help support digestion to assist in maintaining optimum intestinal balance.*
Herbal and prebiotic plant fiber. Includes several herbs known for their ability to promote gastrointestinal health.*
Health Benefits: Carbo-G is a digestive enzyme supplement designed to help reduce the symptoms of occasional bloating, diarrhea, gas, and abdominal cramps associated with diets high in complex carbohydrates.*
Recommended Usage for Carbo-G (formerly GlutenSense):
Take one (1) capsule at the beginning of every meal or snack with at least 8oz. of liquid. Contents may be removed from capsule and taken by spoo, immediately after mixing with a small amount of tepid water. Usage may be increased according to need as directed by health care practitioner.

NO FILLERS/NON-ALLERGENIC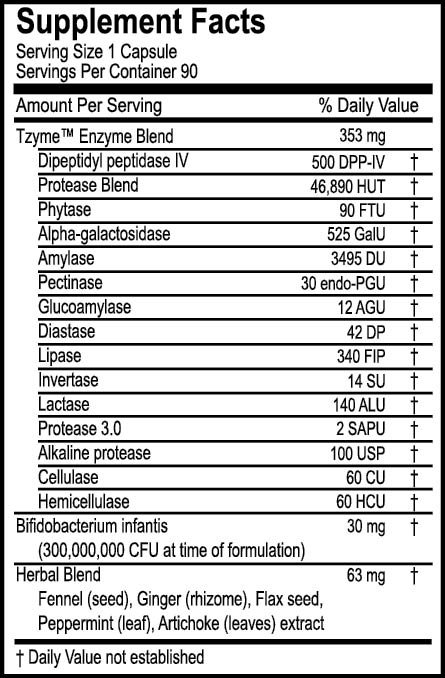 Learn more about digestive enzyme labeling and measurementstandards.

Copyright 2015
All Rights Reserved
Enzyme Essentials, LLC
*

S

tatements

have

not been evaluated by the Food and Drug Administration (FDA).

P

roducts not intended to diagnose, treat, cure, or prevent any disease.
The information contained here is for reference only and is not intended to diagnose disease or prescribe treatment. The information contained herein is in no way to be considered a substitute for consultation with a health care professional. Furthermore, this information is for the private use of our clients and is not to be used publicly, reproduced, or distributed without the written consent of Enzyme Essentials, LLC

[About Us] [Contact Us] [Blog] [Member Login]