All Products
Digest
Plantadophilus
E-Clubs
BalanceZyme Plus
CalmZyme
DigestZyme
Energy Burst Plus
ExcellZyme
GastroZyme
Carbo-G
Kidz Products
LypoZyme
MasterZyme
PureZyme
PureZyme Plus
ReleaseZyme
RepairZyme
Super CellZyme

Do You Have
Digestive Enzyme
Questions?
See our FAQs
Learn about E-Club Member Discounts!
click here
MasterZyme
digestive enzyme supplement with herbs and glandulars

The natural choice for healthy hormone balance*
This product is NOT vegetarian.

Product Description
Each endocrine gland has one or more specific functions, but all are dependent upon other glands for the maintenance of a normal hormonal balance within the body. This one of a kind formula is uniquely designed to supplementally support the entire endocrine system for encouraging regular menses and supporting low energy, lethargy, and fatigue.*
Glandular Support. MasterZyme includes adrenal, thyroid, pituitary, and gonadal tissues specific to the endocrine and reproductive systems. The comprehensive glandulars in this product are highly tested for purity and safety to naturally feed and fortify the thyroid, suprarenal cortex, anterior pituitary, ovaries, and prostate glands.*
Herbal Ingredients. Black Cohosh and Irish Moss are known for their ability to support thyroid function. Rose Hips are a natural source of antioxidants and vitamin C.
Enzyme Blend. This formula includes amylase, protease, cellulase, and lipase enzymes for improved absorption and delivery of the various ingredients.*
Health Benefits: MasterZyme provides nutritional support for the adrenal, pituitary, and thyroid glands as well as the reproductive system.*

Recommended Usage for MasterZyme:
Take one (1) capsules three times a day. Usage may be increased according to need as directed by health care practitioner.

NO FILLERS/NON-ALLERGENIC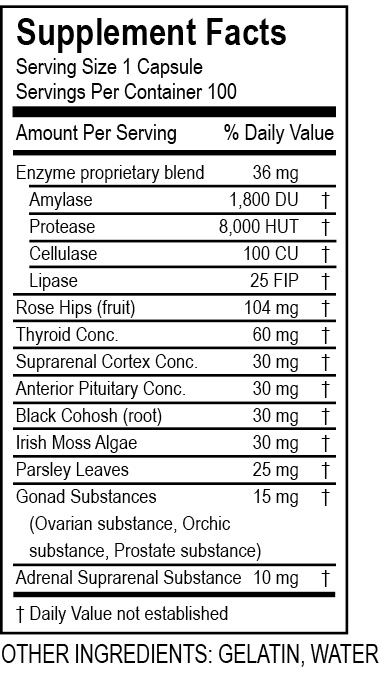 Learn more about digestive enzyme labeling and measurement standards.

Copyright 2015
All Rights Reserved
Enzyme Essentials, LLC
*

S

tatements

have

not been evaluated by the Food and Drug Administration (FDA).

P

roducts not intended to diagnose, treat, cure, or prevent any disease.
The information contained here is for reference only and is not intended to diagnose disease or prescribe treatment. The information contained herein is in no way to be considered a substitute for consultation with a health care professional. Furthermore, this information is for the private use of our clients and is not to be used publicly, reproduced, or distributed without the written consent of Enzyme Essentials, LLC

[About Us] [Contact Us] [Blog] [Member Login]