All Products
Digest
Plantadophilus
E-Clubs
BalanceZyme Plus
CalmZyme
DigestZyme
Energy Burst Plus
ExcellZyme
GastroZyme
Carbo-G
Kidz Products
LypoZyme
MasterZyme
PureZyme
PureZyme Plus
ReleaseZyme
RepairZyme
Super CellZyme

Do You Have
Digestive Enzyme
Questions?
See our FAQs
Learn about E-Club Member Discounts!
click here
LypoZyme
high-lipase digestive enzyme supplement

Digestive formula with lipase for enhanced fat digestion*
Our highest lipase product.
Lipase supplements can help control appetite and support healthy cholesterol and triglyceride levels*
Recommended by Healthcare Professionals for 20 years!
Formula developed by Dr. DicQie Fuller, author of The Healing Power of Enzymes

Complete digestion of food molecules with digestive enzymes helps reduce food intolerances and encourages a healthy and efficient immune system. Adequate absorption of essential fatty acids is also necessary to maintain healthy skin and membrane structure in cells throughout the entire body.
Digestive Enzymes. This enzyme-only formula is designed to assist the proper digestion of fats, starches, and proteins with particular focus on enhanced fat digestion.*
Focus on Lipase. The lipase in LypoZyme supports occasional indigestion related to dietary fats, provides the body with a feeling of satiety which helps controls appetite, and supports cholesterol and triglyceride levels already within the normal range.
Product Combinations. This well-tolerated formula is a good addition to other digestive formulas. Use with DigestZyme during a meal that is high in fat content to add extra lipase for improved fat digestion, with BalanceZyme Plus for extra assistance in weight management, and with EFAs to increase the body's ability to utilize essential fatty acids.*
Health Benefits: LypoZyme is uniquely formulated with lipase for supporting healthy fat digestion, cardiovascular health, and weight management.*
Did You Know? It is often desirable to supplement with additional lipase if your health goal is healthy gall bladder support, cholesterol balance, healthy bowel movement, and healthy skin.*
Lipase
A lipid (fat) digesting enzyme from Aspergillus oryzae. Incomplete digestion of fat allows fat to coat food particles and therefore interferes with the hydrolysis of other food components such as protein and carbohydrates. Normal digestion of dietary fat is accomplished by lipases with the assistance of bile, which is produced by the liver and normally supplied by way of the gallbladder. The function of bile is to bring ingested fats into emulsion to facilitate the work of the lipases.
Amylase
Supplementation with amylase allows digestion of carbohydrates during their transit through the gastrointestinal tract. These enzymes can tolerate the low pH of the gastric juice. The amylase hydrolyzes the starchy foods and liberates maltoses.
Protease Blend
Consists of alkaline, neutral and acid proteases plus peptidase. Our protease blend includes proteases that are active in a wide range of pH's, ensuring that protein digestion will begin in the stomach. It also includes enzymes with a wide range of specificities (i.e. both endo- and exo- peptidase) in order to ensure the highest degree of protein degradation.

Recommended Usage:
Take one (1) capsule with every meal. Usage may be increased according to need as directed by health care practitioner.

NO FILLERS/NON-ALLERGENIC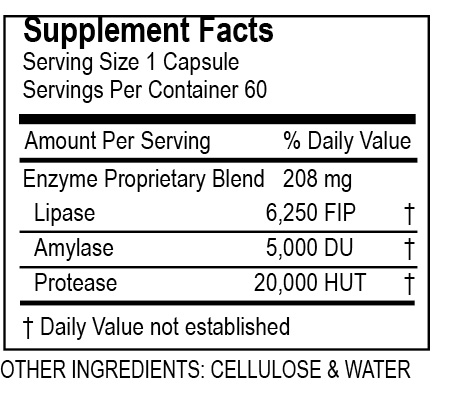 Learn more about digestive enzyme labeling and measurement standards.

Copyright 2015
All Rights Reserved
Enzyme Essentials, LLC
*

S

tatements

have

not been evaluated by the Food and Drug Administration (FDA).

P

roducts not intended to diagnose, treat, cure, or prevent any disease.
The information contained here is for reference only and is not intended to diagnose disease or prescribe treatment. The information contained herein is in no way to be considered a substitute for consultation with a health care professional. Furthermore, this information is for the private use of our clients and is not to be used publicly, reproduced, or distributed without the written consent of Enzyme Essentials, LLC

[About Us] [Contact Us] [Blog] [Member Login]