All Products
Digest
Plantadophilus
E-Clubs
BalanceZyme Plus
CalmZyme
DigestZyme
Energy Burst Plus
ExcellZyme
GastroZyme
Carbo-G
Kidz Products
LypoZyme
MasterZyme
PureZyme
PureZyme Plus
ReleaseZyme
RepairZyme
Super CellZyme

Digest 90
professional strength, vegetarian, plant-based digestive enzyme supplement

Digest 90 caps
$52.95

Member Price $42.95

Vegetarian, professional strength, all-natural digestive enzyme formula
Supports digestion with a potentblend of pure plant enzymes*
Contains Protease to digest proteins, Lipase to digest fats, and Amylase to digest starches and sugars.
Gluten-free, Soy-free, and no fillers
Recommended by Healthcare Professionals for 20 years!
Formula developed by Dr. DicQie Fuller, author of The Healing Power of Enzymes
Download the product sheet.

Healthy food choices are a great start to promoting health; however this represents just the first step. To benefit from all the nutritious components of our food, a healthy digestive system is needed. Today, dozens of factors including genetics, stressful lifestyles, poor diet, processed foods, and the environment all influence digestion. Supplementing a healthy diet and lifestyle with digestive enzymes is the next step in health. Our most comprehensive digestive enzyme formula includes highly active enzymes with a broad range of specificities needed to digest the foods most commonly found in the human diet.* Once the food is broken down into simple nutrients, the body can then assimilate these for energy, growth, and repair.*
Enzyme Blend. Proteolytic Enzymes support the digestion of proteins for reduced risk of food sensitivities, toxins, and free radicals.*

Lipolytic Enzymes encourage more complete digestion of fats and lipids to support pancreas, liver, and gall bladder health and wellness.*
Health Benefits: Digest is an enzyme supplement designed to help promote availability and absorption of nutrients, health and vitality of cells, and improved overall digestive and immune system health.*
Recommended Usage for Digest:
Take ONE (1) capsules with every meal with at least 8 oz. of liquid. Usage may be increased according to individual needs as directed by health care practitioner dependent on both the types of foods eaten and the individual's digestive difficulties. Capsules may be pulled apart and mixed in a small amount of tepid water and/or mixed with the first bite of food.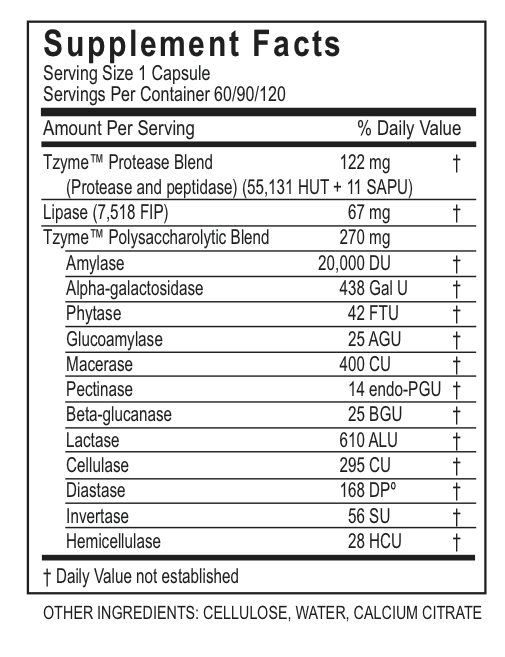 Learn more about digestive enzyme labeling and measurement standards.
NO FILLERS/NON-ALLERGENIC


Copyright 2015
All Rights Reserved
Enzyme Essentials, LLC
*

S

tatements

have

not been evaluated by the Food and Drug Administration (FDA).

P

roducts not intended to diagnose, treat, cure, or prevent any disease.
The information contained here is for reference only and is not intended to diagnose disease or prescribe treatment. The information contained herein is in no way to be considered a substitute for consultation with a health care professional. Furthermore, this information is for the private use of our clients and is not to be used publicly, reproduced, or distributed without the written consent of Enzyme Essentials, LLC

[About Us] [Contact Us] [Blog] [Member Login]