All Products
Digest
Plantadophilus
E-Clubs
BalanceZyme Plus
CalmZyme
DigestZyme
Energy Burst Plus
ExcellZyme
GastroZyme
Carbo-G
Kidz Products
LypoZyme
MasterZyme
PureZyme
PureZyme Plus
ReleaseZyme
RepairZyme
Super CellZyme

Do You Have
Digestive Enzyme
Questions?
See our FAQs
Learn about E-Club Member Discounts!
click here
CalmZyme
all-natural sleep aid - digestive enzyme supplement with herbs


Our stressful lifestyles can sometimes include nervousness and difficulty keeping focused. As the name implies, CalmZyme has a calming effect and helps slow mental chatter for occasional stress relief.* Because of its ability to feed and fortify the nervous system as a whole, this formula is ideal for natural stress management.*
Herbal Ingredients. In addition to hops, skullcap, and wild lettuce, herbs known for their calming properties, valerian root is the main ingredient in this all-natural, vegetarian product.*
Nervous System Support. The health of the nervous system is crucial in maintaining muscle movement, activation of glands, mental functioning, and emotional responses. Many who are exhausted actually get energy when taking CalmZyme together with ExcellZyme and/or GastroZyme because it provides balance.*
Enzyme Blend. Plant enzymes maximize digestion of nutrients, production of energy, and aid in immune support.* The enzymes in this formula promote improved delivery of the herbal ingredients, plus additional enzymes to help support the nervous system.*
Health Benefits: CalmZyme is the perfect non-habit forming, natural solution for supporting a healthy nervous system and promoting restful sleep.*
Recommended Usage for CalmZyme:
Take one (1) capsule between meals and/or before bed. Take with adequate liquid. Usage may be increased according to individual needs as directed by health care practitioner.
NO FILLERS/NON-ALLERGENIC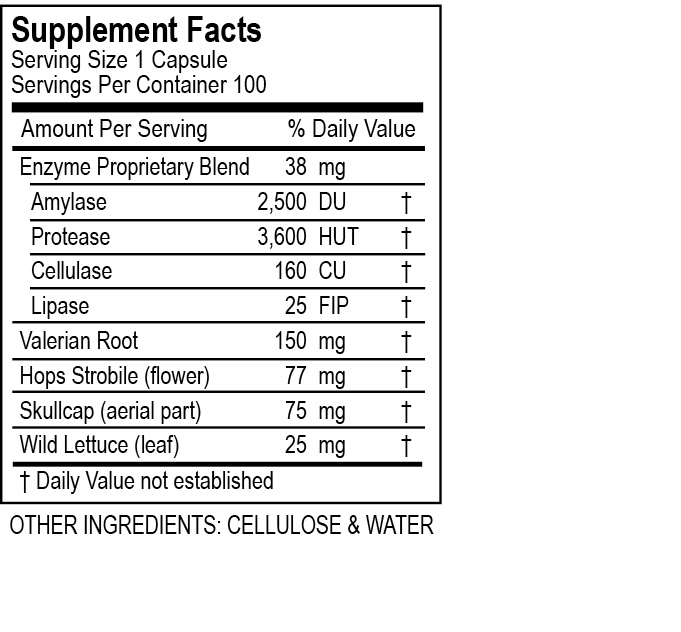 Learn more about digestive enzyme labeling and measurement standards.

Copyright 2015
All Rights Reserved
Enzyme Essentials, LLC
*

S

tatements

have

not been evaluated by the Food and Drug Administration (FDA).

P

roducts not intended to diagnose, treat, cure, or prevent any disease.
The information contained here is for reference only and is not intended to diagnose disease or prescribe treatment. The information contained herein is in no way to be considered a substitute for consultation with a health care professional. Furthermore, this information is for the private use of our clients and is not to be used publicly, reproduced, or distributed without the written consent of Enzyme Essentials, LLC

[About Us] [Contact Us] [Blog] [Member Login]