All Products
Digest
Plantadophilus
E-Clubs
BalanceZyme Plus
CalmZyme
DigestZyme
Energy Burst Plus
ExcellZyme
GastroZyme
Carbo-G
Kidz Products
LypoZyme
MasterZyme
PureZyme
PureZyme Plus
ReleaseZyme
RepairZyme
Super CellZyme

Do You Have
Digestive Enzyme
Questions?
See our FAQs
Learn about E-Club Member Discounts!
click here
ReleaseZyme
digestive enzyme supplement with herbs for occsaional constipation

Natural digestive enzyme and herbal support to "jump start" the occasionally sluggish colon*
Improve regularity and help occasional constipation with digestive enzymes and herbs.*
Recommended by Healthcare Professionals for 20 years!
Formula developed by Dr. DicQie Fuller, author of The Healing Power of Enzymes

Product Description
Good nutrition begins when we digest our food and finishes when the waste products are eliminated from the bowels. Bowel toxicity is brought on by poorly digested foods that ferment, putrefy, and turn rancid in the colon. This formula is designed for occasional constipation, occasional bowel irregularity, and support of a colon cleanse or detox program.*
Natural Ingredients. The herbs cascara sagrada, ginger, fennel, burdock, senna, goldenseal, and psyllium are known for their ability to stimulate peristalsis, absorb moisture, and provide bulk in the colon.
Enzyme Blend. The digestive enzymes amylase, lipase, cellulase, and protease are included to provide additional digestive support and encourage improved delivery of the herbal ingredients.*
Digestive Support. For best results and to help prevent occasional digestive complications, use ReleaseZyme in conjunction with probiotic and digestive enzyme formulas such as Plantadophilus and either OxiCellZyme or DigestZyme.*
Health Benefits: ReleaseZyme is uniquely formulated with natural nutrients to assist the body in the elimination of waste.*
NOTICE: This product contains Cascara Sagrada Bark and Senna Leaf. Read and follow directions carefully. Do not use if you have or develop diarrhea, loose stools, or abdominal pain because Cascara Sagrada Bark and Senna Leaf may worsen these conditions and be harmful to your health. Consult your physician if you have frequent diarrhea or if you are pregnant, nursing, taking medication, or have a medical condition.

Recommended Usage for ReleaseZyme:
Take two (2) capsules between meals and/or before bed. Drink plenty of water while using the product. It is not recommended to take the product for longer than 3 month intervals.
If pregnant or lactating, please consult your physician.

NO FILLERS/NON-ALLERGENIC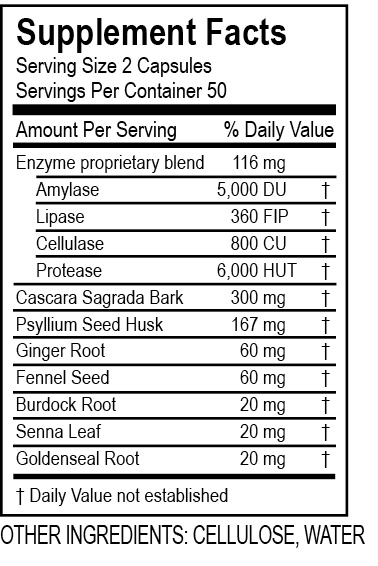 Learn more about digestive enzyme labeling and measurement standards.

Copyright 2015
All Rights Reserved
Enzyme Essentials, LLC
*

S

tatements

have

not been evaluated by the Food and Drug Administration (FDA).

P

roducts not intended to diagnose, treat, cure, or prevent any disease.
The information contained here is for reference only and is not intended to diagnose disease or prescribe treatment. The information contained herein is in no way to be considered a substitute for consultation with a health care professional. Furthermore, this information is for the private use of our clients and is not to be used publicly, reproduced, or distributed without the written consent of Enzyme Essentials, LLC

[About Us] [Contact Us] [Blog] [Member Login]